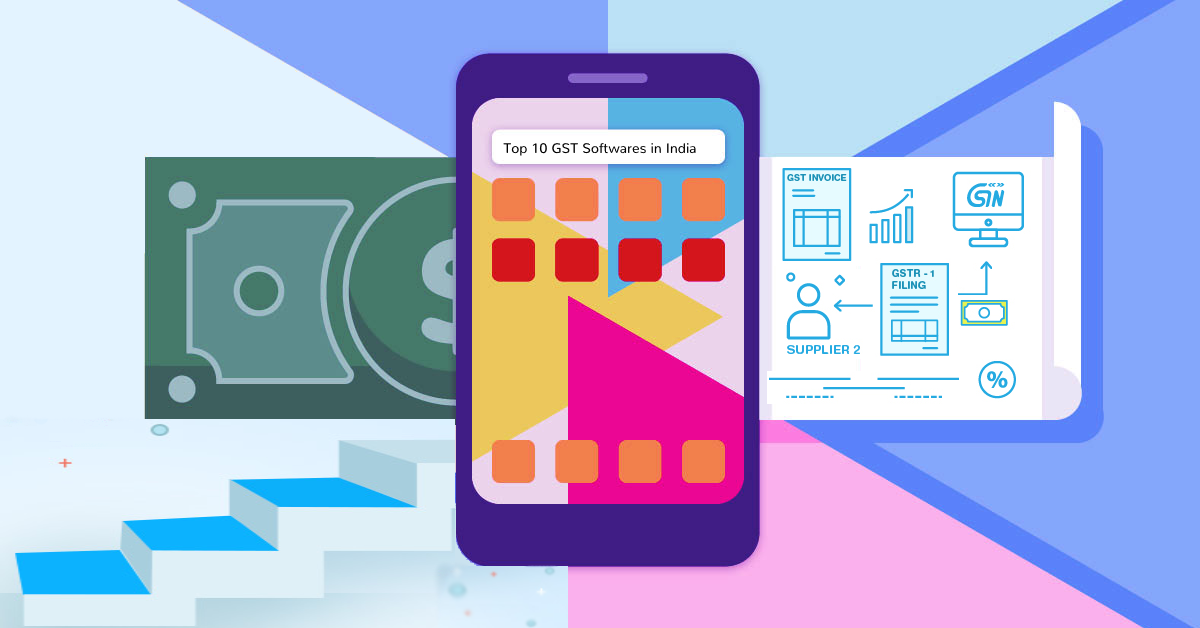 Top 10 GST Softwares in India for Small Businesses
1. Tally ERP 9
Tally ERP9 is India's most popular business software and GST software. Tally is the leader in helping businesses in managing their compliance for more than two decades. Tally works offline and so you don't need an internet connection to operate.
Pricing: Tally.ERP 9 Silver (Single User) INR 21,240.00
Tally.ERP 9 Gold (Multi-User) INR 63,720.00
2. MARG GST
MARG ERP 9+ is very simple and user-friendly software. Marg GST Software allows you can convert your bill into any format you require. In addition to this, it can also send the bills through email. This saves plenty of time for the user.
Pricing: Basic edition Rupees 7200 for 2 users
3. Giddh
Giddh is an innovative GST enabled accounting software. You can share ledgers, invoices and single entries with multiple transactions with this software.
Pricing: Rs. 800 per month for regular version
4. LegalRaasta
Legalraasta is a simple accounting software equipped with GST. The software provides the user with an auto-reconciliation benefit.
Pricing: Rs. 10,000 for client version and Rs 17,500 for a standalone version
5. Vyapar
Vyapar is a simple GST ready Accounting, Invoicing, and Inventory management software. Small business owners can use it with ease even without no technical knowledge.
Pricing:
They have several pricing plans ranging from monthly to lifetime. The monthly plan starts at Rs. 99/ month and Rs. 4899 for lifetime usage.
It is important to mention here, before buying a GST software you must ensure whether the chosen one has basic features as follows:
6. Zoho Books
Zoho Books is popular GST-ready accounting software. It lets you send invoices, reconcile bank transactions, track inventory, generate reports. All these help users in filing GST returns effortlessly. The solution offers 14 days of free trial for its clients.
Pricing: Rs 2499 per year for one organization
7. Taxmann's One Solution
Taxmann's One Solution software is a complete GST Software with all ASP-GSP Services. It is one of the best end-to-end GST compliance software for Invoicing, Reconciliation and Returns Filing software available at present in India. Taxmann is an ISO 270001 certified company.
Pricing: They have three modules as follows
Goods and Service Tax (GST) Module (Multi-user) – Rs. 8500
Income-Tax Computation and Returns Module (Multi-user) – Rs. 7500
Tax Deducted from Source (TDS) Computation and Returns Module (Multi-user) – Rs 6500
8. ClearTax
Cleartax is a powerful cloud-based software. It ensures that you will never make mistakes or lose data. Additionally, you can access your returns and data anytime, anywhere. It is trusted by CA Firms, Banks and Businesses across India. It helps in creating GST invoices and provides GST compliant Tax Invoice formats.
Pricing: Rs. 10,000/-
9. GEN-GST
GEN- GST a very user-friendly Good Tax Preparation Software. It is useful for the accountants who need a tool to prepare GST returns for their clients without accounting. It can extract data from any accounting software for filing purposes. The best part is it does not need the internet to operate.
Pricing – Rs. 6,039 for Desktop Installation
Rs. 2,416 for Desktop Updation
10. SahiGST
SahiGST is a cloud-based Filing software for CA and businesses to manage their GST return filings and reconciliation. The platform automatically reconciles all invoices between vendors & suppliers. There is system-driven tracking of the input tax credit.
Pricing: Rs 12000 plus taxes for Pro Pack.
List of Basic Features you must look in any GST software:
Create and send professional GST invoices
Get GSTR1 and GSTR2 reports
Design and create professional quotations
Track sales, invoices, supplier bills, and payments
Track cash flows with P&L and balance sheet
Import transactions automatically with online banking
Track inventory levels & get low-inventory alerts
Create budgets and purchase orders
Unlimited user access
Multi-currency support for 145 countries
No software to install – sign up online in moments
Anytime, anywhere access from your mobile, computer or tablet
Free mobile app for iPhone and Android devices
Includes free updates and new features
Access to open APIs as per your business needs
File GST returns
We will update this post as we receive information on other GST software which is doing good in the market. Come back and stay updated!!